Body System
Let us help you achieve your goals.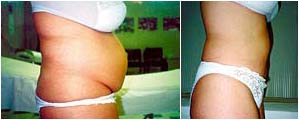 As we are individuals, our bodies work and respond to all things in different ways. So its worth remembering, actual results will vary from person to person and a consultation is required to customise a treatment that will best help you achieve your desired results.
Our Linfogei treatment is an automated lymphatic drainage treatment that can help reduce puffiness in the face and body, relieve swelling and is particularly effective at improving 'pear-shaped' body types. It's important to remember manual drainage, if not done correctly, can be much less effective, so our treatment working in exact synchronisation with the heart is on of the most superior and effective currently available anywhere in the world.
In the world today, fat and cellulite reduction are easily two of the most common goals. While there's no such thing as a miracle cure, and you should be suspicious of any treatment claiming to be, we are now able to utilise proven technology to produce amazing results in this area. 'Results' being the important word here. VIP treatments such as Transion, Linfogei  and Body System can all be used to reduce fat mass and cellulite.
 
Linfogei – fluid & cellulite
Accurate lymphatic & venous drainage
Relieves painful swollen limbs
Assists in resolving and preventing cellulite
Purifies the return blood circulation
Reduces water retention, bloatedness and puffiness
Prepares the body for body system, trasion and surgery
Body System – fat & cellulite
Infrared liquefiers and reduces hardened, trapped fat
Muscle movement pumps away the toxins
Improves the appearance of cellulite
Decreases the fat mass
Prepares the body for body system, trasion and surgery
 
Transion – fat & muscle slackness
Quick & painless body firming and slimming
Improves muscle slackness
One 20 min session = 3 hours of concentrated exercise
Decreases the fat mass
Measurable benefit after 1 session
Post Op Care
 
For many people VIP treatments can actually eliminate the need for surgery. In instances where surgery remains the best option to surgery remains the best option to produce a desired result, VIP treatments can be used both before and after surgery for maximum effectiveness.
Using VIP before an operation can help prepare your body to be in an optimum state can assist with the healing proces and maximise the effectiveness and also the longevity of the results axchieved.